AHN Varsity Volleyball Ready to Begin Season
On August 19 and August 20, the Varsity volleyball team will kick off their season with a pre-season tournament. They are slated to play Robinson on Friday and Steinbrenner on Saturday. The preseason action will be vital in helping the team prepare for their regular season.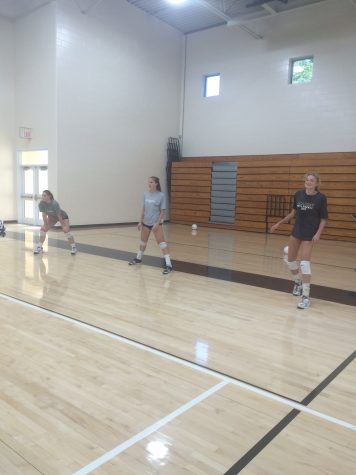 The team has been working since tryouts on August 1 to prepare for their upcoming season. Last season, the team finished with a record of 17 wins and 10 losses, and they made it to the district semi-finals. This year, the team will look to do even better and attempt to rival their team of two years ago, which made it to states.
Ashley Lambert (12) says, "As a Senior, I am looking forward to being a leader of the team, and getting to experience the special privileges such as Senior Night. I am also excited to try to lead the team back to states."
Many girls on the team have been playing club volleyball during the spring and summer to keep their skills intact. This allows the players to get more game experience that will help them this season in important games. Some key games of the season are against Berkeley Preparatory on September 22, and against rival Tampa Catholic on October 5. The game against Tampa Catholic is part of the annual Spike and Splash where the volleyball and swim teams have raise money for breast cancer.
Sophomore Jessica Prossen comments, "Spike and Splash is very exciting because we get so much energy from the crowd that feeds us as we play against our rivals."
This season is the first under new head coach Laura Praetorius. She previously coached at Steinbrenner for two seasons, and she brought them to states in 2014.
"I have really enjoyed playing for Coach Laura so far. She is very helpful at telling each player specific things they need to work on and she makes practice enjoyable," comments Junior Katherine Pickard.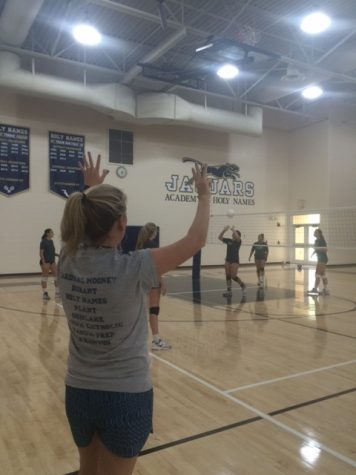 After their preseason classic, the Jaguars will play their first regular season game on August 25 against Indian Rocks Christian at home. Click here to view the rest of their schedule.