There's strong, then there's army strong..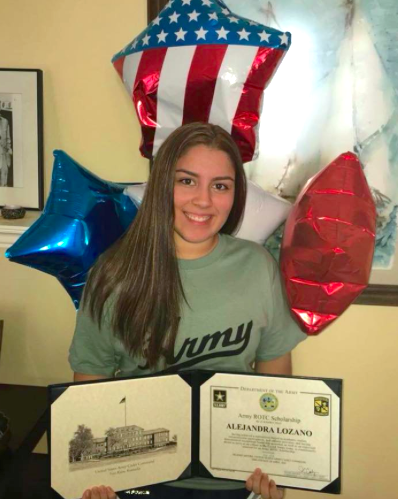 For some, the "American Dream" signifies a better life, freedom and a fresh start. For me, the American Dream means having the opportunity to reach your dreams because you are in a nation willing to provide you with that opportunity. The deciding factor, which indicates whether you can achieve the American Dream or not, is passion. Passion to follow your dreams, passion for the American people, passion for service. From my personal experience, the sacrifices my parents made in order to send me to a private catholic school is my definition of the American Dream. They were not only thinking of giving me a good education, but about the outcome of what I could do with it.
There is no better institution where I could utilize and develop all the gifts I learned during my high school career than the Army.
Since a very young age, my parents would always register me for every club, sport or organization there was. From my fourteen years of experience growing up in Colombia, my schedule was always full and my list of extra curricular was very extensive. In comparison to most Latin American countries, the environment is extremely family-friendly, since everyone knows everyone. The pressure to maintain a good reputation was very demanding and living in a society like this paved the way for me to discover that I was bound to become a leader, not a follower. From activities such as leading the line outside of class, erasing the board or being the teachers helper for the day, my hand was always the first one to volunteer. Since then, I have been very passionate about the humanities, public speaking, and leadership overall.
The main reason for my interest in the Army includes the vast opportunities to network, to lead and to serve. Participating in this program will distinguish me from other college graduates and would be an accomplishment I take pride in. Due to the selectivity of this program, those who get the opportunity to participate will essentially be the best among several other young adults. This would be advantageous for me, because being surrounded by great minds could facilitate the transformation of my ideas into tangible projects or realities.
The Army ROTC program would exercise my knowledge and broaden my abilities in a way where I could earn valuable experiences and develop my career. My career path would be positively influenced with all the higher officers, who will mentor me and transform me into an honorable soldier. This program is the way in which I desire to experience college life. While I will still be enjoying a college campus, I will be receiving the education and training necessary for my career. During these four years, I will enjoy campus life while at the same time enroll in training to become a commissioned officer at the time following graduation. I understand the commitment that is required from me in exchange of the tuition assistance that I will receive for my college education. I believe this is not only a fair way to repay the Army for their financial aid for my education, but a way to repay my country. Not only will I learn about leadership, but I will test my limits, prove my strength and most importantly, make my parents proud.
Their sacrifice for me is not going to be in vain, I will make them proud and I will serve the country who gave me the opportunity to become the person I am today. I yearn for my share of the "American Dream" and I feel like serving and giving back would fulfill that purpose. The United States was the platform or the opportunity, and I am the passion that will take accomplish anything that is required from me in order to make this a better nation.
Furthermore, I am drawn towards the Army ROTC program because it is the largest branch of ROTC, as well as the most demanding, advanced, successful, and welcoming one. Although my father served in the U.S. Air Force for twenty-eight years, I feel drawn to the Army because of the wider range of career opportunities. I believe the Army is the backbone of the United States Military. During times of political tension, the Army is the first one to respond and its soldiers are ready for action. The high-level training I will receive will not only be a privilege for the improvement of my character but a platform in which all my leadership qualities will be developed. I believe my enthusiasm and desire for improvement would positively enhance this program and help my peers and I obtain success in the long run. My passion towards interacting with others would impact the community as a whole by enforcing my desire to serve.
I believe that I have a calling to join the United States Army so that I may be part of the elite group of the United States military. The army is the backbone of the military, they are the key element in any strategic, operational and tactical plan. As a United States officer I understand the importance of making the implementations of those plans seamless.
I am willing to deal with any physical, intellectual and emotional challenge. I want to wear the same uniform of those officers that came before me, who fought for the same thing I want to fight for. I have a calling to serve my fellow Americans. I wish to defend everything that the United States constitution stands for with values such as freedom and democracy.
As an officer I believe I will use all my strength to ensure that the plan is accomplished. Intellectually, I am an honor student who has excelled academically. Emotionally, I understand the sacrifice because I have seen first hand with my father who is retired from the military. I know it is tough, I've seen it and I can do it. Physically, I've never shied away from physical challenges. I'm willing to do anything that is asked of me to protect the country that I love. I want to use this vocation and commitment to lead troops in any sort of circumstance.