Supreme Court Justice Antonin Scalia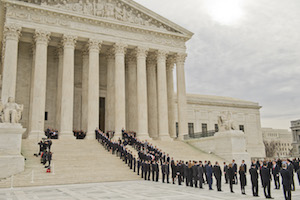 United States Supreme Court Justice Antonin Scalia was appointed to the Supreme Court in 1986, by President Ronald Raegan, after he served as a member of President Richard Nixon's general council and was the U. S. Assistant Attorney General. Justice Scalia, who was called by the New York Times a "leader of a conservative intellectual renaissance," was a Justice of the Supreme Court for 30 years and the longest-serving Justice as well.
On February 13, 2016, Justice Scalia passed away while staying at a resort with a friend of his on a hunting trip in West Texas. Due to the distant location of the resort, local judge Cinderela Guevara declared his time of death over cell phone. His cause of death was not quickly released but it was determined that it was of natural causes.
AHN Senior Giorgia Flanagan stated, "I know who Justice Scalia was because of my dad and I saw about his death on the news but I didn't know who he was until then. It seems like a classic murder mystery."
Justice Scalia's body was brought back the Supreme Court building on Feb. 19 and then later was brought tho the U. S. Capitol building where he was "placed on the Lincoln Catafalque, which first supported President Abraham Lincoln's casket across the street in the U.S. Capitol after his assassination in 1865."
WOW: Check out the line to pay respect to Justice Scalia. It's gotten huge. (Via @bennyjohnson) pic.twitter.com/XHPKO4fRTv

— Independent Journal (@INJO) February 19, 2016
Justice Scalia's widow, Maureen, was accompanied by their nine children, including their son Rev. Paul Scalia who said a prayer, and their 36 grandchildren were there. The eight remaining Supreme Court Justices attended the service for their friend. President Barack Obama and the Fist Lady Michelle Obama payed their respects but were criticized because they "payed less than two minuets of respect to the late Antonin Scalia."
The #SCOTUS justices pay respects to #Scalia, standing in the order they sit on the bench https://t.co/HeRUxNY2Cm https://t.co/Bq1PxXpM7K

— CNN Politics (@CNNPolitics) February 19, 2016
His funeral was held at the Basilica of the National Shrine of the Immaculate Conception in Washington D.C., which is the largest cathedral in the United States. Rev. Paul Scalia led the mass in which thousands of men and women attended to honor the Justice.
Eternal rest grant unto him, O Lord. And let perpetual light shine upon him. #JusticeScalia pic.twitter.com/JZrpTEVihd

— DC Archdiocese (@WashArchdiocese) February 20, 2016
President Obama set the media into a whirl when he did not attend the Justice's funeral and sent Vice President Joe Biden and his wife, Dr. Jill Biden, in his place. He became the first president in America's history to miss the funeral of a Supreme Court Justice while in office.  
AHN Senior Jade Meurer believes that, "It's disappointing that President Obama would let political tensions dictate whether or not he attended the funeral." 
Unbelievable: @WhiteHouse says President Obama won't attend #Scalia's funeral, doesn't rule out he'll golf instead: pic.twitter.com/bqoh2K0zQL

— National Review (@NRO) February 18, 2016
Since his death, there has been a battle between the President and the Senate Congressional Committee because the committee is set on rejecting any of President Obama's nominees to fill Justice Scalia's seat. This is a widely debated issue because the President's nominee (if approved by the Senate) can influence the outcomes of the Supreme Court decisions.
With the passing of Justice Scalia, everything is on the line: Congress, the presidency, & the #SupremeCourt.https://t.co/MuTHMuWk9o

— Paul Ryan (@SpeakerRyan) February 24, 2016
Flannagan shared how she felt his death would effect the Supreme Court. "I think it will have a negative effect because, before, the Supreme Court was balanced between liberals and conservatives" says Flannagan. "With his death, it's become unbalanced and needs to be rebalanced again."
With this debate, there has been a lot of criticism and admiration of Justice Scalia's time on the bench. Here is what people are saying about the Justice:
Meurer shared, "I know that Antonin Scalia was criticized for his extremely conservative views but I admire his humor and his commitment to his beliefs."
The totally unexpected loss of Supreme Court Justice Antonin Scalia is a massive setback for the Conservative movement and our COUNTRY!

— Donald J. Trump (@realDonaldTrump) February 13, 2016
Statement on the passing of Supreme Court Justice Antonin Scalia: pic.twitter.com/xazj9dDd5c

— Hillary Clinton (@HillaryClinton) February 14, 2016
Today, after 30 years of faithful service on the #SupremeCourt, we say goodbye to Justice Antonin #Scalia.

— Paul Ryan (@SpeakerRyan) February 20, 2016
My thoughts and prayers are with Justice Scalia's family and colleagues, who mourn his passing.

— Bernie Sanders (@SenSanders) February 13, 2016
Today our Nation mourns the loss of one of the greatest Justices in history – Justice Antonin Scalia https://t.co/8ESSQHU1VY

— Ted Cruz (@tedcruz) February 13, 2016
About the Contributor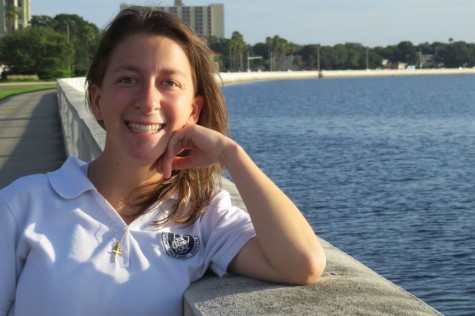 Jeanine Ramirez, News Editor
Jeanine Ramirez is an Academy senior, fourth-year journalist and the News Editor for the Achona. Following her interests in the social sciences, Jeanine...