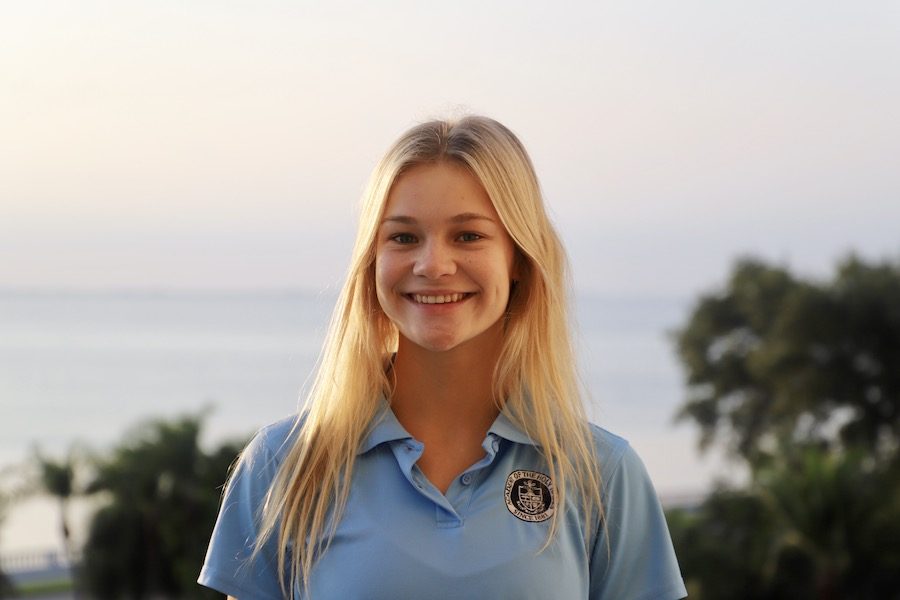 Ella Castellano is a senior first year staff writer for Achona.  She is a Jesuit cheer captain and a captain of the Academy's lacrosse team.  Her favorite shows are
"Euphoria" 
and
"The Bachelor"
.  Her favorite subject in school is english because she loves to write.  She wants to go either Florida State or
University of Georgia
.  She goes to the gym almost every day, spends a lot of time out with her friends, and
loves listening to music
.  A fun fact about Ella is that she knows almost every lyric. Castellano has lived in Tampa her entire life so the move to a new city for college is going to be very different for her.  When Castellano graduates Academy this year she wants to travel  before she has to start her life somewhere new. Castellano is excited for all the senior privileges, such as the senior lounge, senior skip day, senior prank day, and even graduation once the school year is over.
Ella Castellano, Senior Staff Writer
Apr 24, 2020

COVID-19's Impact on Mental Health

(Story)

Apr 01, 2020

Tokyo Summer Olympics Postponed Until 2021

(Story)

Mar 24, 2020

Tom Brady Has Signed to Play for the Tampa Bay Buccaneers

(Story)

Mar 18, 2020

Coronavirus Forcing a Staycation for Spring Break 2020

(Story)

Feb 28, 2020

Women Integrating Into NFL Careers Dominated By Men

(Story)

Feb 14, 2020

Super Bowl LIV Performance Meant More than People Realize

(Story)

Feb 04, 2020

The Coronavirus Pandemic

(Story)

Jan 24, 2020

Virginia Becomes the 38th to Pass the Equal Rights Amendment

(Story)

Jan 15, 2020

Meghan Markle and Prince Harry Planning to Leave the Royal Family

(Story)

Dec 17, 2019

Women Snubbed Once Again at the Golden Globes

(Story)

Dec 09, 2019

Olivia Jade Comes Back For the First Time Since College Cheating Scandal

(Story)

Nov 18, 2019

Everything You Need to Know About the Macy's Thanksgiving Day Parade 2019

(Story)

Nov 08, 2019

Missouri May Become the First State Without an Abortion Clinic

(Story)

Oct 31, 2019

The Scariest Haunted House in America: Mckamey Manor

(Story)

Oct 24, 2019

Sesame Street Introduces Muppet Karli to Help Children Understand the Opioid Crisis

(Story)

Oct 16, 2019

Justin Bieber Marries His "One Less Lonely Girl", Hailey Bieber (Baldwin)

(Story)

Oct 04, 2019

Academy Students Thoughts on Spike and Splash 2019-2020

(Story)

Sep 26, 2019

Women in Movies Club New at Academy

(Story)

Sep 19, 2019
Sep 06, 2019

Long Weekend Activities of AHN Students

(Story)