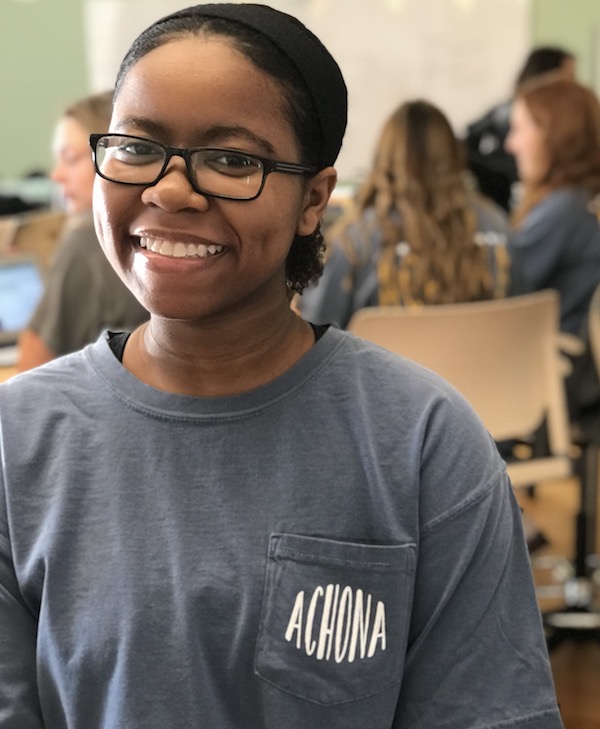 Tabitha Rucker is an Academy senior and first year staffer for ACHONA. She enjoys working with the aftercare students a few times a week. Rucker loves to scroll through her Twitter feed and find dank memes
.  Tabitha aspires to attend Spellman College in Atlanta, Georgia to become an education administrator, such as a Dean of Students or a Vice Principal. She has not 1, but 8 favorite teachers/administrators at Academy: Melissa LeBlanc, Stacy Filocco, Dr. Lauren Oetinger, Virginia Pendleton, Erin Krukar, Emily Pantelis, Olivia Martinez, and  Principal Stephanie Nitchals. Her favorite album that came out this year was "ANTI" by Rihanna, but her favorite album of all time is "Coloring Book" by Chance the Rapper. Tabitha's pop culture icons are: Michelle Obama, Shonda Rhimes, Kerry Washington, Alicia Keys, and Viola Davis. Rucker also enjoys sharing and liking photos on her Instagram. 
Another social media platform Tabitha spends time on is her Pinterest,  
where she shares her fitspo and healthy eating goals with her whopping 2 followers. Rucker the meme queen has some great ideas for new compelling articles this year. Tabitha looks forward to sharing her humor with the readers of Achona and her fellow Achona staff.
Tabitha Rucker, Senior Staff Writer
May 02, 2018

What It's Like Going To Academy (VIDEO)

(Story)

Apr 17, 2018

2018 Academy Superlatives

(Story)

Mar 23, 2018

The Queen of Crafts: Olivia Martinez

(Story)

Mar 20, 2018

Mini Course Trip to Disney (VLOG)

(Story)

Mar 08, 2018

Parks and Rec vs The Office: The Great Debate

(Story)

Feb 28, 2018

Bullet Journaling Tips

(Story)

Feb 22, 2018

Things You Shouldn't Say Out Loud

(Story)

Feb 01, 2018

Black History Month Event Dates at AHN

(Story)

Jan 24, 2018

Class of 2021 Refocus and Regroup

(Story)

Jan 18, 2018

Seniors Reflect on their Favorite College Visits

(Story)

Dec 12, 2017

Academy Students Attend SDLC in Anaheim, California

(Story)

Dec 06, 2017

It's an Academy Wedding! Featuring Mrs. Paige Mangan Rodriguez

(Story)

Nov 28, 2017

Teachers that Attended Academy Together

(Story)

Nov 09, 2017

Rising Female R&B Artists

(Story)

Oct 30, 2017

AHN Students Meet their Families

(Story)

Oct 25, 2017

Conspiracy Theories Every Person Should Know

(Story)

Oct 13, 2017

Greta Dieck plans Cross out Cancer 5k

(Story)

Oct 06, 2017

P.O.W.E.R. Becomes a New Club at Academy

(Story)

Sep 28, 2017

Donald Trump and Kim Jong-un Publicly Feud

(Story)