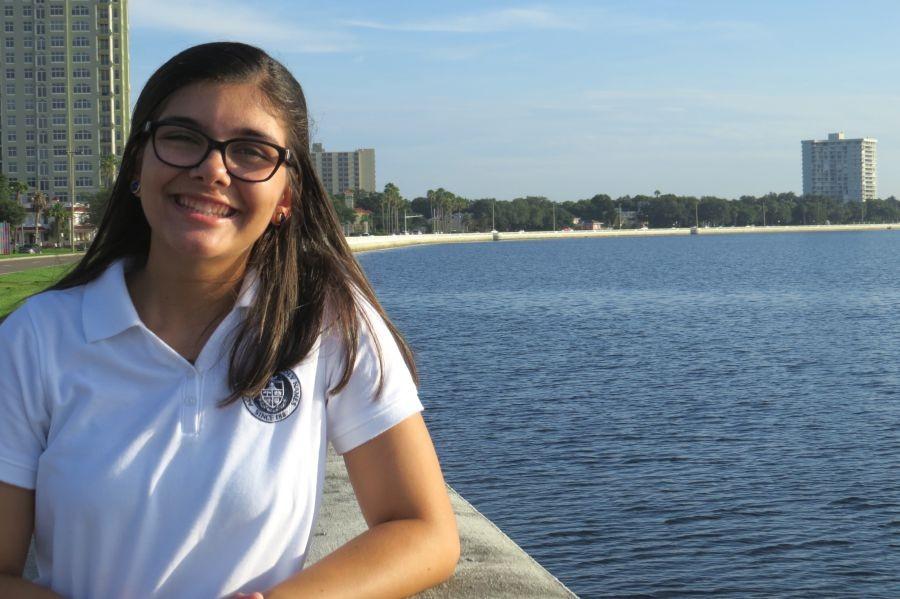 Vanessa Alvarez is a second year journalist and a junior staff writer for Achona. Alvarez loves journalism, as it is her favorite class, she enjoys covering pop culture events. Alvarez is involved in a variety of clubs including Teen Leadership Council, Make a Wish, and Respect for Life. Alvarez is the head of training for TLC. She also went on a mission trip this past year to Ruskin, Florida and is looking forward to doing it again this year. Alvarez also participates in annual Migrant festivals where she serves food to migrant workers. In Alvarez's free time she enjoys flipping through Vogue magazines, listening to Taylor Swift's 1989 album, and spending time with her pug Winston. Alvarez identifies herself as a pug lover. After Alvarez graduates in 2017, she plans on attending either Florida Southern College or Spring Hill University. She aspires to major in either finance of criminology. Alvarez is also a gleek (glee fan) and confesses that she randomly belts Lea Michele's rendition of
Don't Rain on My Parade.  
She also loves to spend time on her Pinterest looking for outfit ideas from shops like Kate Spade and Jack Rodgers.
Favorite Song:
Vanessa Alvarez, Sports Editor
Apr 26, 2017

An Open Letter to Achona

(Story)

Apr 07, 2017

"Good Girl" Flyers Cause Uproar at a Jacksonville High School

(Story)

Mar 30, 2017

Achona Staff Heads to Fox 13

(Story)

Mar 22, 2017

Where Would They Be If They Weren't Teaching?

(Story)

Mar 07, 2017

Seniors No Longer Being Inducted Into NHS

(Story)

Feb 24, 2017

Millennials Struggle With Accepting Rejection

(Story)

Feb 14, 2017

An Open Letter to AHN Moms

(Story)

Feb 03, 2017

Localtopia Returns to St. Pete

(Story)

Jan 30, 2017

Women Fight for Rights in New York City

(Story)

Jan 24, 2017

Because Blue Lives Matter Too

(Story)

Jan 10, 2017

Going Behind the Scenes of Achona

(Story)

Dec 03, 2016

Statements Regarding Fidel Castro from a Cuban's Perspective

(Story)

Nov 17, 2016

Psychology Students Create Projects on Battling Stress

(Story)

Nov 07, 2016

18 Inspiring Students Under 18 (PART TWO)

(Story)

Nov 07, 2016

How to Prepare for the Gilmore Girl Reprisal

(Story)

Nov 06, 2016

18 Inspiring Students Under 18 (PART ONE)

(Story)

Oct 25, 2016

Two Seniors' Fight for SNL Tickets

(Story)

Oct 20, 2016

SNL's Influence on the Elections

(Story)

Oct 03, 2016

Cross Out Cancer Returns

(Story)

Sep 26, 2016

Amal Clooney Sues Isis

(Story)

Sep 16, 2016

28 Questions with Mrs. Lori Kearney

(Story)

Sep 08, 2016

Seniors Meet Their Breaking Point

(Story)

Aug 30, 2016

TLC Welcomes New Freshmen

(Story)

Aug 19, 2016

Is Donald Trump Giving Up the Election?

(Story)

Jun 01, 2016

The Class of 2019 Reminisce about Freshman Year

(Story)

May 19, 2016

Lin-Manuel Miranda Inspires Graduates at UPenn

(Story)

May 13, 2016

Feelings the ACHONA Staff Has When Looking for Story Ideas

(Story)

May 05, 2016

The Race to End Standardized Testing

(Story)

Apr 25, 2016

The Best of Jimmy Fallon

(Story)

Apr 19, 2016

Wizards Return in Fantastic Beasts and Where to Find Them

(Story)

Apr 11, 2016

Relay For Life Returns to Tampa

(Story)

Apr 11, 2016

Karlie Kloss, the Modern Renaissance Woman

(Story)

Mar 21, 2016

A Look Into Ruskin

(Story)

Feb 26, 2016

Humans of Academy: Camille Opp takes on New York Fashion Week

(Story)

Feb 18, 2016

What is the Zika Virus?

(Story)

Feb 04, 2016

Academy's favorite movies

(Story)

Jan 26, 2016

Why Did Bing and Bolton bail?

(Story)

Jan 13, 2016

Current Events: How up to date are you?

(Story)

Dec 11, 2015

Preparations for a very Merry Christmas

(Story)

Dec 01, 2015

Tragedy strikes Paris

(Story)

Nov 13, 2015

Goodbye, Hunger Games

(Story)

Nov 06, 2015

Wage Gap hits Hollywood

(Story)

Oct 23, 2015

Junior Retreat: Class of 2017

(Story)

Oct 08, 2015

The sisterhood as told by Parks and Recreation

(Story)

Sep 29, 2015
Sep 22, 2015

5 Seconds of Summer comes to Tampa

(Story)

Sep 08, 2015

Surviving Junior year (as told by the Seniors)

(Story)

Aug 24, 2015

How to get back on track with Ms. Rodriguez

(Story/Media)

May 29, 2015

If Olivia Pope had an Instagram

(Story)

May 18, 2015

Beauty and the Beast at the Straz

(Story/Media)

May 06, 2015

Class of 2015- Running through the halls

(Story/Media)

May 04, 2015
Apr 20, 2015

Feelings after Spring Break ends

(Story)

Mar 26, 2015

100 Days of Happy Challenge

(Story/Media)

Mar 05, 2015

5 celebrity couples everyone wants back together

(Story)

Feb 19, 2015

10 things Academy girls are tired of hearing

(Story)

Feb 05, 2015

Grammy Awards 2015

(Story)

Jan 23, 2015

What is Humans of New York?

(Story)

Jan 09, 2015

Girls Lacrosse is ready to begin at Academy

(Story/Media)

Dec 08, 2014

Thoughts All Academy Girls Have During Midterms

(Story/Media)

Nov 18, 2014

Varsity Volleyball Takes States

(Story/Media)

Nov 07, 2014

1989: Song by Song

(Story)

Oct 23, 2014

25 Most "Influential" Teens According to Time Magazine

(Story)

Oct 06, 2014

Mr. and Mrs. Clooney

(Story)

Sep 30, 2014
Sep 15, 2014

Plastic Surgery: Teen impact

(Story)

Sep 05, 2014

Class of 2018: Freshmen Impressions

(Story/Media)